How to know if your DIY project is worth your time?

In honor of #DIYday, I'm diving into the pros and cons of DIYing vs. buying right out of the box.

Clearly, I'm a huge fan of DIY projects. I love to be able to dream something unique in my head, combining inspirations and then digging in with my hands to make something I'm truly proud of.

However, I have also learned, that without the right planning, these projects can sometimes end up costing more than if I'd just gone and bought the darn thing.

So in order to avoid a few headaches, I now assess each idea, with a little planning (I must get this from my daytime gig - project manager :-P) It ends up being a fine balance between how much I value the custom aspect of the project over the price and time constraints to do it.

Ok so here is my method to know when to build or buy for your next project, hope it helps!
Powered by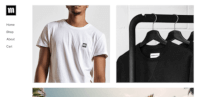 Create your own unique website with customizable templates.